Sometimes the simplest advice is really the best advice. Today, THE SALT GOD'S DAUGHTER author Ilie Ruby reminds us what's important — our writing. She also shares what it was like to write her second novel, and how she integrates her love of folklore and myth into her work.
Please welcome Ilie to Women's Fiction Writers!
Amy xo
Author Ilie Ruby Says Throw Away The Labels And Start Writing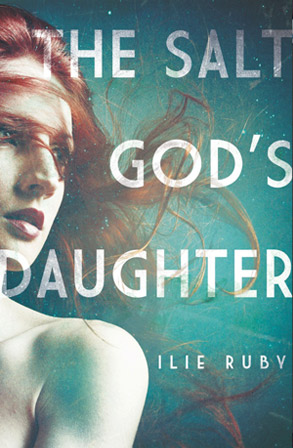 Amy: Congratulations on your "sophomore" novel, The Salt God's Daughter. The story is a story containing folklore and myths — can you tell us a little bit about it and how these stories came into your life — and subsequently found your way into your novel?
Ilie: Thanks, but I have to admit that "sophomore" makes me cringe a little. If I had thought about that label when I was writing this book I probably wouldn't have written it. (So to answer your 2nd question up here for a second), my advice to you is to not think of it that way. Plus it reminds me of sophomoric. Can we never say that term again? I'm half joking. More, it makes me think about the labels and all the have to's, and how to's, and should have's thrown at writers about things that have nothing to do with writing. The same is true for genre, for platform, I could go on about this. I suppose it is relevant to the extent that you build a context for your career and your identity as a writer, but no, I don't have much to say about how the label affected me because it didn't. I only knew that I wanted to write the best novel I could and that I wanted it to do as well as my first. But I chose a different path for my second book so I knew it would be different—unlike my first novel, I chose to do an exclusive offering to a boutique literary publisher. The decision was wholly editor-driven. My editor read the manuscript in its early stages and was very enthusiastic about it. I followed him to the independent publisher, where he is editor-at-large. I had a reason and I am happy with my choice. I put the novel in the hands of someone I trusted, who loved the book. So, far, things have turned out really well.
As for myth and folklore, which characterize my work—I studied mythology and journalism in college—two things that seem as if they couldn't be more different. Mythology appealed to me because it canvasses the architecture of the human psyche in all of its messy complexities, and journalism appealed to me because of its brick and mortar approach to storytelling. The marriage of these two things is what is at work in my books. I'm drawn to the way myths celebrate beings that are bigger, exaggerated versions of human beings, but who are bound by very human, raw, often impassioned, emotions and instincts. The juxtaposition of a thing that is larger than life but also bound by the human desires and obsessions (love, sex, greed) fascinates me. My passion for stories lies in the confluence of myth and real life, the place where gritty human truths spark discoveries and epiphanies that seem divine.
Folktales were the first stories I learned. My mother is an ex-hippie and she picked up volumes of folksongs in the early 60s. The legend of the selkie (or "silkie"), which influenced the structure of this book, came to me when I was very young when she taught me to play it on my guitar—The Great Silkie. There are many versions of selkie mythology, tales of shape-shifting creatures that are seals in the water but that become people on land. The version I grew up with chronicles the journey of a woman who longs for love, and who draws to her a man from the sea—a selkie. He leaves before she gives birth to a child, but he eventually returns to take the child back to the sea. What made this folktale a natural vessel for the novel was its patriarchal patterning—and its timeless reflections on our longing for love and connection. As a girl growing up in the 70s and early 80s, navigating the riptide of feminism, I questioned the inequity of power in the myth. Why was the woman waiting? Why did the man, the powerful animal (literally, in this case), have all the control? What was particularly interesting about writing this novel was in the changing dynamic between the selkie and the human, between the man and the woman, by way of a female character, a survivor who endures both love and tragedy, and who must wrestle with the backlash of a patriarchal culture. She is the one who has the power in the end, not by a snap of the fingers but because of a series of choices she makes. I wanted not to create a version of a feminist superhero we so often see in the media—portrayed as a martial arts expert or a gunslinger—rather, this character embodies current-day feminism, a woman finding her way through a labyrinth of changing identity—as a daughter, as a mother, as a lover. Ruthie is, in fact, an unlikely hero, one I very much adore and one I think readers will relate to.
Amy: We (ok, I) sometimes hear horror stories about writing and publishing that second novel. ( Of course, I am ignoring all this as I work on my second now.) Can you share with us your process for writing and if it changed from The Language of Trees, your first book — to your second — The Salt God's Daughter?
Ilie: I will say that my first book took me ten years to write—and it wasn't that I was writing it for ten years—it's that I was re-writing and editing it, and also wrestling with a hereditary condition that can take a toll on the body if I'm not careful. I must say, I've learned to use my time wisely and it also helps to be very stubborn. But to get back to the question, this book was different from the first because my editor was involved from the early stages. We worked very closely together and we more often in sync than not. It was an amazing writing and editing process.
Amy: Aspiring authors, and published authors, can get increasingly discouraged. How do you side step the publishing-me-blues? Or don't you? Any tips appreciated!
Ilie: Do you mean how do you keep the faith in the face of hearing no? Winston Churchill has given us the best response: "Never give up, never give up, never give up." It's a tough journey, women's fiction. I like to tell my horror stories to make new writers feel better about where they are. When I was younger in a writing program, I had professors rip my work to shreds (then I'd win awards for the same work). I had someone toss a manuscript on the floor (it was dreadful). I think that's enough examples though there are more—and every author I know can tell you more. I tell you all this to say that this is a tough business and even after you are published, some will try to pull you down again—it happens. Get right back up. No matter what. You must, absolutely must, keep your mind clear, your resolve strong, and stay on track. It's not easy to deal with these things. But if you're going to be in the business, you've got to ready yourself. I should also say that as hard as it is, it is just as wonderful. The wonderful stuff happens when you meet writers you can trust, who love and support you, and readers who love your work and who will let you know. I'm in touch with so many readers because of my first book who have now come back for the second book and it is absolutely heart-warming. That's rewarding.
Amy: How do you define women's fiction?
Ilie: Women's fiction—I'd define it as fiction that is written with a female audience in mind. Though I could see answering this myriad other ways, too.
Amy: What is your best advice for aspiring authors – particularly of women's fiction?
Ilie: Write the best damn story you can. Tell it in the most honest and real way you can. And then have faith, persistence, and don't let your social media activities become your writing. Social media is not your writing. Your writing is your writing and it must come first! Keep on, you will do it as long as you don't stop.
Thank you so much for having me on your blog, Amy!
Ilie Ruby is the author of The Salt God's Daughter (September 2012) and the critically-acclaimed novel, The Language of Trees, which debuted in 2010 and was selected as a Target Emerging Author's Pick and a First Magazine for Women Reader's Choice, and for which complex Chinese rights were sold. Raised in Rochester, NY, she attended the University of Southern California's Professional Writing Program, where she was fiction editor of The Southern California Anthology. She also holds a masters degree in education from Simmons College, and specialized in documentary filmmaking at Emerson College. She is the winner of the Edwin L. Moses Award for Fiction, chosen by T.C. Boyle; a Kerr Foundation Writing Scholarship, and the Phi Kappa Phi Award for Creative Achievement in Fiction. Ruby is also a recipient of the Wesleyan Writer's Conference Davidoff Scholarship and the Barbara Kemp Award for Outstanding Teaching and Scholarship. She has worked as 5th grade teacher, an assistant producer for a PBS archeology series in Central America, and as an editor at Houghton Mifflin Company. Ruby is also a painter, mother to three, and currently teaches writing in Boston.